Welcome to the Tankery Wiki!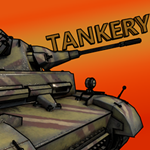 Welcome, to the Official Tankery Wiki! This Wiki will focus on all of Tankery's Tank statistics; Tanks appearances, Map statistics, currency, and much more! We are still currently undergoing renovation, however, so this page is not complete yet.
What is Tankery?
Tankery is a Prestige Tank Combat game on Roblox created by GregTame on August 22nd, 2015. It places you in command of a tank, ready for combat and to battle it out against the enemy team! Destroyed in combat? No matter as you can always spawn in anytime with the spawn button! As you further progress into the game and gain more currency, you can always purchase a new tank through the menu and into the shop! Upgrade your arsenal, jump into intense tank battles, and duke it out on a variety of maps! What are you waiting for? Jump into Tankery on Roblox and check it out for yourself here, or click here if you have Discord.
Countries
In Tankery, you can take command of various tanks to choose from multiple countries:
Rules of the Wiki
Vandalism is not tolerated and will result in a permanent ban.
Use proper grammar and spelling in all pages.
If you're editing/creating an article and is uncertain about a section of information, then denote it with "?"
Be sure that a page you're creating has not been created yet.
Personal opinions are not allowed on page editing but are only allowed on guide or playstyle pages.
Advertising or spamming anywhere is forbidden.
Read the Guide for Wiki Editors (seen below this section).
Tankery Guide
If you want a guide on various features and mechanics of Tankery, there's a guidebook: Tankery Guide. For others who seek a guide and wish to participate on contributing for the wiki, there's also a guide page: Guide for Wiki Editors.
Community content is available under
CC-BY-SA
unless otherwise noted.